SOLAR MICROSTATION are a range of compact generators designed to power 12V/24V or 48V low power loads.
They are widely used for different application telephony and signaling.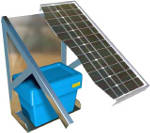 These generators offer the following advantages :
- Easy to install, and to use
- Easy to transport,
- Interchangeable,
- Strenght, reliability,
- Autonomous.
SOLAR MICROSTATION are available in 10Wp, 20Wp, 30Wp, 40Wp, 50Wp, 60Wp, 80Wp, 90Wp.
Their design allows these compact sets to be ground, wall or pole mounted, and is a fitting solution to the problems of installation in remote sites.