PARALLEL HYBRID SOLAR (SHP) FOR ISOLATED SITES
SOLARCOM France has developed parallel "SHP" hybrid solar by combining various sources of additional energy for electricity generation in isolated and rural sites.
This system uses different sources of energy:
Photovoltaic - Wind Turbine - Generator Set with storage battery.
A storage battery is essential for the production of electricity at night and during periods of non sunshine. Generator, waiting is requested for a quick recharge batteries or to ensure continuity of service.
SHP system provides high reliability in operation and operational flexibility and operating gain.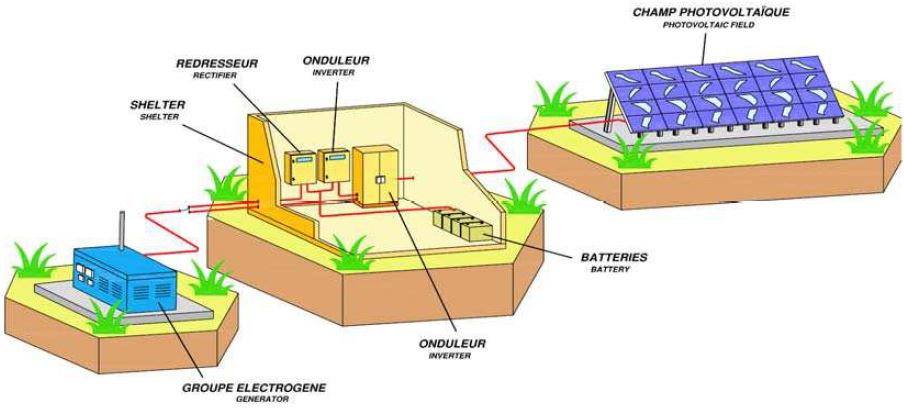 HYBRID SOLAR DIESELSOL FOR ISOLATED SITES
The use of photovoltaic solar energy potential and generator for electricity generation is proving to be profitable in remote areas fed by a generator.
SOLARCOM France has developed a DIESELSOL hybrid system (Solar Photovoltaic (PV) Generating Group (GE) for supplying a load to domestic (rural electrification) where conventional electrical distribution network is no existent.
The DIESELSOL configuration causes a very significant fuel economy during sunny days. Indeed, 40% of GE consumes less fuel.
In periods of sunshine, the PV generator power takes over the operation of GE reducing its consumption and its maintenance.